I'm going to be honest: losing actor Sid Haig so suddenly really rattled me. I saw his final film and passion project 3 From Hell (2019) in theaters a few days before his death, reviewed it, and hoped he'd be able to be in more of Rob Zombie's movies. His character of Captain Spaulding was one of a kind, and I quote him constantly in my daily life. It's weird seeing the world without him.
But Haig certainly wouldn't have wanted these films to vanish after his death. He discusses the project in depth in an interview (predating Haig's death) with Bloody Disgusting describing the actor's slow decline and the dawning realization that, despite everyone's creative vision and best hopes, Captain Spaulding wasn't going to be able to appear much in the final cut.
"So what I did was I rewrote the whole script for the tenth time … and convinced Lionsgate. 'Please, you gotta let me bring Sid in, even if it's just for one morning. I gotta get Captain Spaulding in this movie. He's very important to me, the movie, it was very important to Sid.' And they were like, okay, but I had to do something that was completely not strenuous for him."

Rob Zombie, Bloody Disgusting
Haig was apparently very reluctant to discuss his declining health, and so fan outrage at the lack of Captain Spaulding in 3 From Hell really missed the point and looks incredibly entitled now.
Thankfully, we're getting a 4K and Blu-Ray release with a 4-part documentary when the film goes VOD early October. For fans, this is a long-awaited moment, and one that arrives tinged now with sadness. Thanks for the amazing run, Sid Haig. We miss you already.
So what's the other controversy?
Spoilers ahead!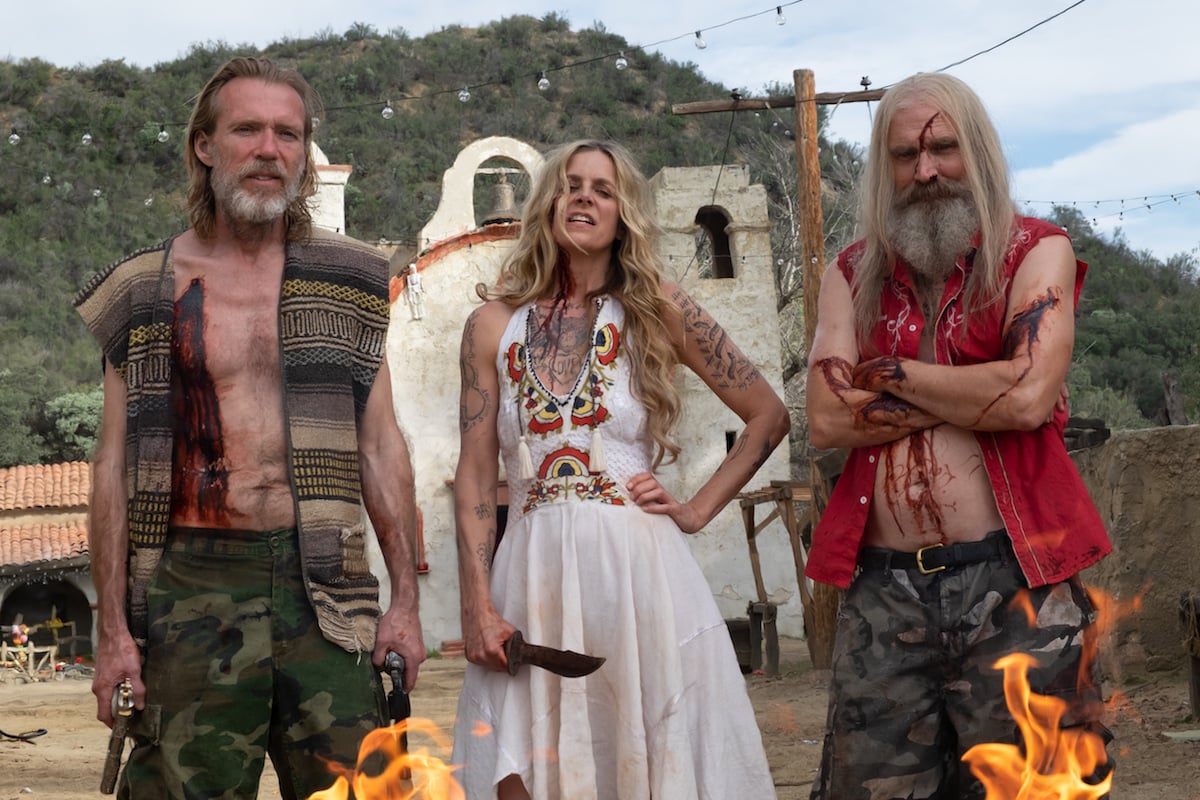 Well, Baby is wearing a classic chieftain's headdress in plenty of promo images. This gets into questions of representation.
In the film, Baby steals this headdress (and her bow and arrows) from the warden, Virgil Dallas Harper (played by Jeff Daniel Phillips). This warden is particularly cowardly and also mistreats the inmates. He tells Otis as he's ushered into death row, "This is my death factory, and you're the product." Otis later turns this around by massacring the warden, along with his family and friends, before fleeing with Foxy and Baby to Mexico.
The Firefly family has always represented the lower classes rising up against the rich and privileged, and here we see it again. Baby stealing the objects that the Warden likely stole from other disadvantaged groups reclaims power. We see this reinforced later as she uses these weapons to vanquish their enemies.
Sure, Baby is a young blonde white girl, but it's an exploitation cult horror, folks. Being offensive is kind of what it does.
Read my full review at Dead, Buried, and Back!
If you like my reviews, check out my master list.
---
Here are some ways to support me and what I do. I always appreciate shares, comments, follows, and likes.
Small businesses live or die by word of mouth. Sharing, following, buying from, or donating to me helps immensely.