Director: Rob Zombie
Performers: Sheri Moon Zombie, Sid Haig, Bill Moseley, and Richard Blake
Rob Zombie's third film in the trilogy is 3 From Hell (2019), a horrorbilly sequel in which Baby Firefly (Sheri Moon Zombie), Captain Spaulding (Sid Haig) and Otis Firefly (Bill Moseley) are incarcerated and under public scrutiny. Luckily, they're not done with their exploits thanks to a prison break. Even if you haven't seen House of 1,000 Corpses (2003) or The Devil's Rejects (2005), you can still follow the storyline as the film opens with a decent recap and brings us up to date with the killers' trials and their situations in prison. Otis channels some strong Charles Manson vibes, while Baby shows us what Harley Quinn could be with a higher rating. It's brutal and all good fun. However, if you're at all bothered by nudity, gore, or sexually fueled acts of violence, this really isn't the series for you.
I'm going to be honest: losing actor Sid Haig so suddenly really rattled me. I saw his final film and passion project 3 From Hell (2019) in theaters a few days before his death, reviewed it, and hoped he'd be able to be in more of Rob Zombie's movies. His character of Captain Spaulding was one of a kind, and I quote him constantly in my daily life. It's weird seeing the world without him.
But Haig certainly wouldn't have wanted these films to vanish after his death. He discusses the project in depth in an interview (predating Haig's death) with Bloody Disgusting describing the actor's slow decline and the dawning realization that, despite everyone's creative vision and best hopes, Captain Spaulding wasn't going to be able to appear much in the final cut.
"So what I did was I rewrote the whole script for the tenth time … and convinced Lionsgate. 'Please, you gotta let me bring Sid in, even if it's just for one morning. I gotta get Captain Spaulding in this movie. He's very important to me, the movie, it was very important to Sid.' And they were like, okay, but I had to do something that was completely not strenuous for him."

Rob Zombie, Bloody Disgusting
Haig was apparently very reluctant to discuss his declining health, and so fan outrage at the lack of Captain Spaulding in 3 From Hell really missed the point and looks incredibly entitled now.
Thankfully, we're getting a 4K and Blu-Ray release with a 4-part documentary when the film goes VOD early October. For fans, this is a long-awaited moment, and one that arrives tinged now with sadness. Thanks for the amazing run, Sid Haig. We miss you already.
Spoilers ahead!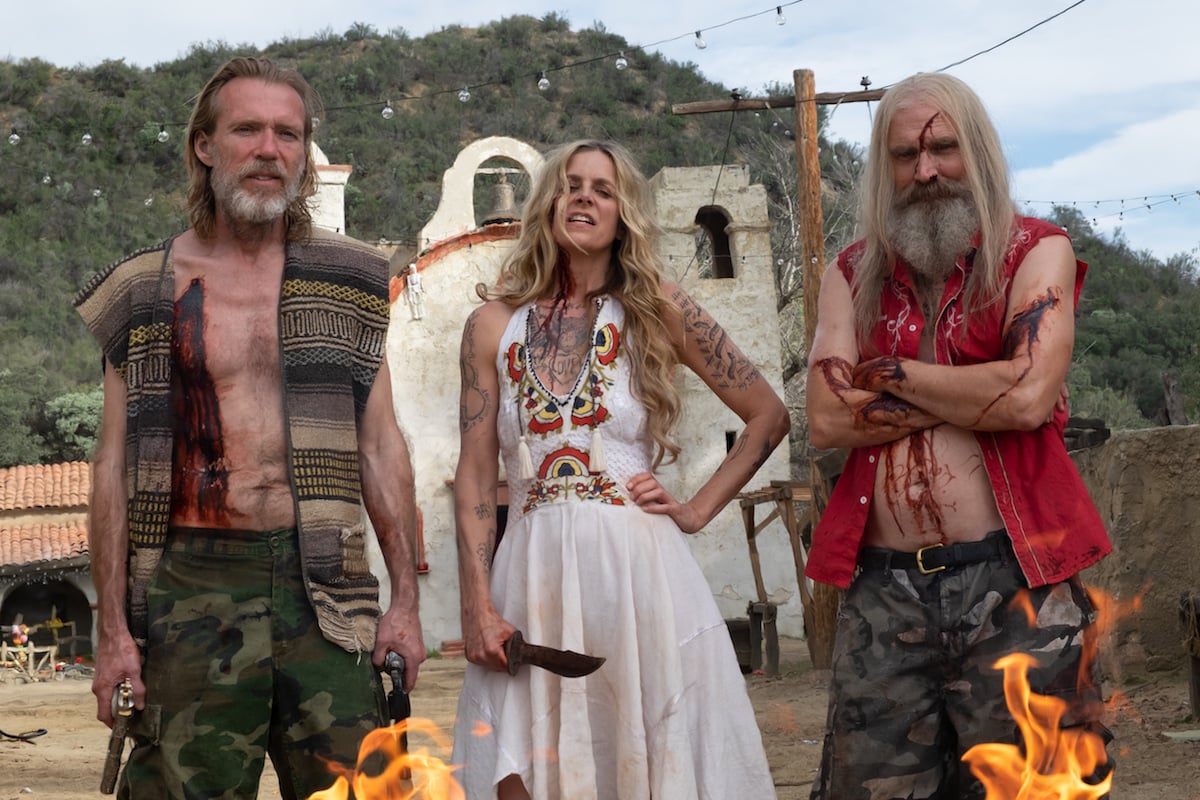 I've been waiting for this movie since Rob Zombie announced it. The ending of The Devil's Rejects didn't leave much room for a continuation after the famous Lynyrd Skynyrd "Freebird" scene. But the characters remained popular and movie magic allows the trio to miraculously survive the 20+ gunshot wounds they each received. The news format is one Zombie loves, and he utilizes it here wonderfully. It builds a creepy mythos around the characters, and we see how their personalities impact a public eager to see the good in people and, in the process, become victims. The length between films is explained away since each character spent 10 years in prison. It's a sensible decision, and we get to see how prison life left Otis relatively unscathed but drove Baby over the edge. "She's changed," Otis tells his half-brother Foxy (Richard Blake) while the three are holed up in a motel on the run. Even then, Baby can't resist the call to murder, and the group is on the road again.
The second half of the film takes place in Mexico after the trio have driven south of the border to escape the heat, but that's not the end of their troubles. Baby and Otis share a quiet moment of reflection before the trio enjoy some La Día de los Muertos celebrations. The setting and makeup effects are really something hee, and we see how much Zombie's improved as a filmmaker. He employs fun camera angles and strategies to make the characters' emotions clear.
So why are people annoyed by this movie? Well, for starters, it must contend with the loss of one of its most popular characters. Captain Spaulding makes an appearance early in the film, but he does on death row off-screen. It's something you can understand audiences getting upset about, but this isn't anything that could be helped. Sid Haig's health went into very sudden decline, and it was all he and Zombie could to get even that little bit of screen time.
So what's the other controversy?
Well, Baby is wearing a classic chieftain's headdress in plenty of promo images. This gets into questions of representation.
In the film, Baby steals this headdress (and her bow and arrows) from the warden, Virgil Dallas Harper (played by Jeff Daniel Phillips). This warden is particularly cowardly and also mistreats the inmates. He tells Otis as he's ushered into death row, "This is my death factory, and you're the product." Otis later turns this around by massacring the warden, along with his family and friends, before fleeing with Foxy and Baby to Mexico.
The Firefly family has always represented the lower classes rising up against the rich and privileged, and here we see it again. Baby stealing the objects that the Warden likely stole from other disadvantaged groups reclaims power. We see this reinforced later as she uses these weapons to vanquish their enemies.
Sure, Baby is a young blonde white girl, but it's an exploitation cult horror, folks. Being offensive is kind of what it does.
People are also upset about a sequel being made at all. There's this belief that a director shouldn't touch any films they made in the past as proven by the Star Wars and Indiana Jones fiascos. However, Zombie is still true to his vision in this film. The characters are still growing and changing. Personally, as someone who saw the first two as an adult, I enjoyed this one just as much. However, I can also understand the nostalgia glasses this movie might rattle for people who grew up with the previous two. It's a fun little exploitation film, and I'm glad I got the chance to see these characters doing their dirty work again.
3 from Hell had a limited theatrical release. It's available on DVD, Blu-Ray, and VOD October 15th.
My rating: 4/5
If you like my reviews, check out my master list.
---
Here are some ways to support me and what I do. I always appreciate shares, comments, follows, and likes.
Small businesses live or die by word of mouth. Sharing, following, buying from, or donating to me helps immensely.